Editorial

Presidential Message: Freude und Dankbarkeit!
ABS Event reports and picts as a service for you
ABS Events: We continue to perform!
More than events
The Last Page
EDITORIAL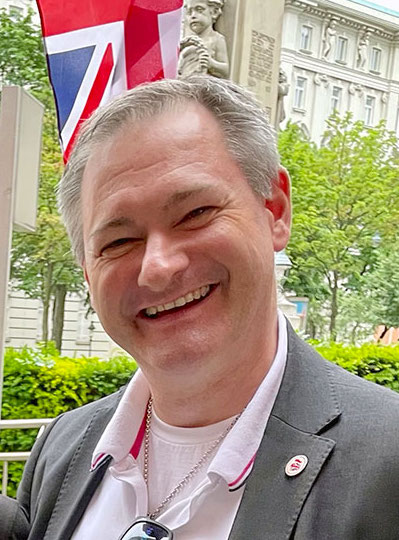 Dear Members and Friends of the ABS,
one mega-event is being chased by the next: The UEFA European Football Championships are over, where England was defeated by a crowd of football players from somewhere in southern Europe, and now the Olympic Games in Tokyo have begun, where UK athletes are showing extraordinary success. As I write these lines, the UK is ranked 6th in the medal table with a total of 28 medals, which is absolutely amazing - and the games are not over yet!


It is the team of the Austro-British Society which definitely deserves a gold medal as well, as 12 outstanding events have been offered to the ABS members in June and July - making an average of 1.5 events per week! Dear distinguished members - no other bilateral society manages anything like this!


But the reward for the organising team is not a medal - it is the joy of our ABS members, the happiness to meet again and the incredible atmosphere you bring to our events and the appreciation you show at being united face-to-face with friends! This gives us more than a medal could ever do!


Therefore, we keep on performing and hoping that we are allowed to do so in the weeks and months to come!


PRESIDENTIAL MESSAGE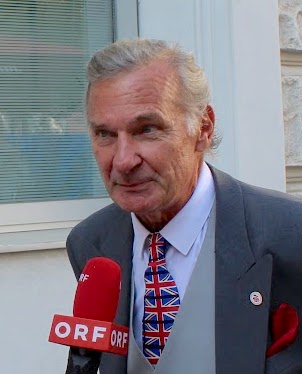 Danke, dass Sie zur Sicherheit bei Events beitragen!
Es war Gegenstand von Diskussionen im Vorfeld der Wiederaufnahme unserer Events, ob die Einhaltung der 3G-Richtlinien erstens von unseren Mitgliedern akzeptiert werden würde, und zweitens, ob wir auch die organisatorischen Voraussetzungen für die Überprüfung schaffen können.


Nach bislang 12 erfolgreich umgesetzten Events bin ich erfüllt von zwei Gefühlen:

Freude darüber, dass die Event-Organisation so großartig funktioniert. An dieser Stelle ein herzliches Danke an alle ABS-Boardmember, die den Einlass inkl. 3G-Kontrolle mit viel Einfühlungsvermögen, Freundlichkeit und Höflichkeit durchführen. Vielen Dank!
Dankbarkeit Ihnen allen gegenüber, unseren Mitgliedern, dass Sie alle so kooperativ mithelfen, unsere Events zu einem Erfolg zu machen - einerseits durch die bereitwillige Mithilfe bei der 3G-Kontrolle, und auch dafür, dass Sie unsere Events mit so viel Lebensfreude bereichern und so zahlreich besuchen.
Eine Bitte zum Abschluss: Setzen Sie bitte alles daran, dass wir einander auch langfristig weiterhin bei Events persönlich begegnen können - achten Sie auf Ihre Gesundheit und ich freue mich, Sie bald wiederzusehen!


Ihr Prof. Dr. Kurt Tiroch,
ABS EVENT REPORTS
ABS Event reports and pictures as a service for you
Also in this edition of the ABS-News we provide you with an overview of all July ABS Event reports - each of them consisting of a text summary and numerous photos. Enjoy browsing through our events we organised for you in July:


VORTRAG PROF. DR. THOMAS SKEKERES, PRÄS. DER ÖST. ÄRZTEKAMMER
FINALE FUSSBALL-EUROPAMEISTERSCHAFT: ENG vs. ITALY
PRINCE GEORGE BIRTHDAY PARTY
In your email inboxes you have already received two further invitations and we look forward to seeing you again soon!


LECTURE: "THE UK - THE CLOCK IS TICKING"
Wednesday, 11. August 2021, 18:00 -

British Ambassador's Residence, Metternichgasse 6, 1030 Vienna




Melanie Sully (Prof. Dr.) is a political scientist, Board Member of the Austro-British Society and author of books on Austrian and British politics. Born and educated in Britain, Dr. Sully is now Director of the Vienna-based Institute for Go-Governance.
ABS GOES TO THE CINEMA: "DREAM HORSE"
Tuesday, 17 August 2021, 20:00 - Votiv Kino, Währinger Straße 12, 1090 Wien


Jan has a dream: she wants to breed her own racehorse. Although she has neither financial resources nor experience, she manages to get both Brian and the accountant Howard excited about the idea.
It's not all about events - enjoy our other services as well!
This short note should just remind you that the ABS is not only all about events, but there are numerous other channels on which we provide interesting, educative and humorous content for you. You are kindly invited to benefit from all our communication channels!


FOR YOU: OUR LATEST ABS BLOGS
"Always news around the car", about the changes in the automotive industry through the last decades, written by Gustav Trubatsch - Click here!
"Strawberries & Cream", about the history of this traditional dish served at the All England Tennis Championships in Wimbledon, written by Jochen Ressel - Click here!
"Diplomatic Lessons: Embrace Responsibility" written by our ABS Honorary President, H.E. Leigh Turner, Her Majesty's Ambassador of the United Kingdom to Austria - Click here!
FOR YOU: OUR ABS INSTAGRAM CHANNEL
Each day interesting picture posts and stories - all of them UK related - from "Improve your English" to cartoons, Royal news and much more, e.g. the best picts from our exclusive events or the "Follower pict of the day"! Click here!
FOR YOU: OUR ABS FACEBOOK PRESENCE
We don't just provide the same content on Facebook as we do on Insta. You will also find links to interesting articles, documentaries and videos, as well as links to all publications of the ABS. But there is room for good British humor as well. Click here!

Österreichisch-Britische Gesellschaft
Austro-British Society (ABS)
Georg-Coch-Platz 4, 1010 Wien
office@oebrg.at
www.oebrg.at
Für den Inhalt verantwortlich: Jochen Ressel